Content creation has become a popular trend, so many people have started to learn video editing. Although paid video editing software programs provide more features and functions, they're not necessary yet for newbies or unprofessional ones. 
If you are thinking of learning to edit videos, there are several free video editors that can provide enough features. A good one can help you create well-quality videos and improve your skills.
We would like to suggest the best free video editing software for computers that fit your needs. They're all excellent for editing long-term content on various platforms.
1. Lightworks
OS: Windows, macOS, Linux
Download: Lightworks
Features:
Simple trim functions to edit videos precisely and quickly

Multi-track editing allows you to continue editing video while importing other contents

Multi-cam editing helps you sync clips from different cameras

Video sharing gives complete control over who has access to edit videos

Fast export function to share videos to popular social networks like Youtube, Facebook, or Instagram

Multiple video formats supporting
The first free video editing software on the list is Lightworks. It has a simple and easy-to-use interface. You'll find some high-end features that are only available on paid packages. Another reason why Lightworks is suitable for newbies is that it has a list of detailed tutoring videos, so you will quickly learn to use the software by yourself.
Moreover, Lightworks provides you with certain music clips and original videos licensed, supporting you create polished and beautiful videos for any purpose. 
If you're satisfied with the software and want to upgrade the version, you can buy the Pro package for professional editing. 
2. HitFilm Express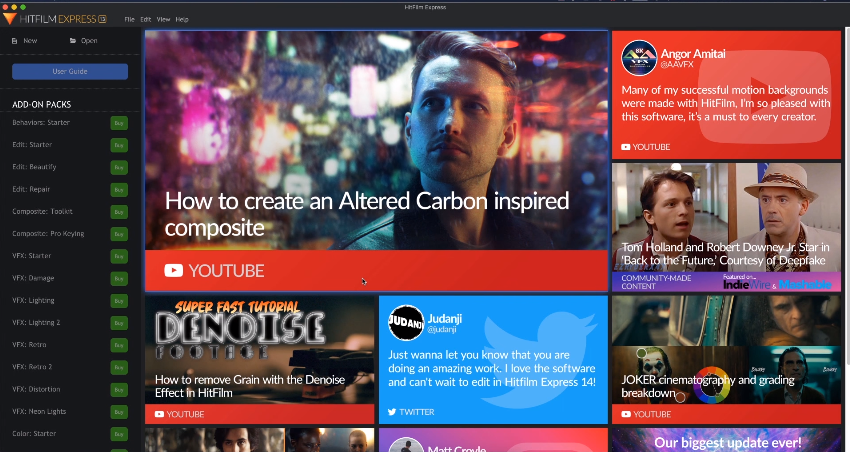 OS: Windows, macOS
Download: HitFilm Express
Features:
Basic editing features like trimming, cropping tool, and color picker

The composite shot allows you to animate two images together for natural watching effects

Auto-stabilizer to smooth shaky footage

The feature to copy a group of attributes from a video to another one

The audio mixer allows you to tweak the sound for outputs
Hitfilm Express aims to help you create professional videos with multiple functions, as mentioned above. You may feel a bit confused initially, but it's worth learning to get experience for advanced video editing in the future.
You can use HitFilm Express for free or buy the Pro version if you are already a professional editor. However, the downloading process may annoy you as you have to share a link of FXhome (the developer) to social media. 
3. DaVinci Resolve
OS: Windows, macOS, Linux
Download: DaVinci Resolve
Features: 
A dedicated trim interface allows you to edit every small part of the whole video

Smart auto-editing function to sync the sound and the motion

The interface is slick, intuitive, and customizable

Built-in tools to export virtual pictures and support other functions like stabilization, zoom, audio, or text

Frame rate and motion estimation speed changes to speed up or slow down the clips

Fast export
DaVinci Resolve features professional 8K video editing, color grader, sound editor, and visual effects. The software is recommended by many famous editors of films, TV shows, or commercial advertisements. 
Advanced features of DaVinci Resolve may be too difficult for starters, but the free version can provide you with basic and simple tools to design projects. If you want to use the paid version, you can buy the Studio version for a one-off fee.
4. VSDC Free Video Editor
OS: Windows
Download: VSDC Free Video Editor
Features:
Color correction tool to create a professional look

A full set of transition effects

Easy-to-use image filters, similar to what you'll find on Instagram

Mask tool to hide, blur or highlight specific elements

Social networking links to share videos on Facebook, YouTube, Instagram, Twitter, and Vimeo

HEVC/H.265 (an advanced video compression standard), to maintain the highest quality at minimum file sizes - essential for handling 4K and HD files
The latest upgrade of VSDC Video Editor delivers an excellent dark-looking interface. It enables you to detach individual windows so that you can edit videos on more than one monitor. Although the free version reduces some advanced features, it still comes with a full video editing suite.
If you have enough budget to buy the paid version, you will receive extended functions such as stabilization, slideshow capabilities, 3D diagram templates, and more. 
5. Movie Maker Online
OS: Windows, macOS, Linux (in browser)
Visit site: Movie Maker Online
Features:
Access to a large royalty-free images and music storage

All the data is saved on the cloud

Essential and easy-to-use editing tools like trim, merge, slideshow, etc.
If you are afraid that video editing software may be too heavy and will take a lot of memory, Movie Maker Online is the ideal choice. It will not use your hard drive as everything happens in the cloud. 
Moreover, Movie Maker Online offers fully-functioned features that can help you enhance your videos. It gives you access to an extensive collection of photos and music. To edit a video, you just go to the website, upload your original video, then crop clip, add filters, or other effects. 
Some other options for YouTubers:
Adobe Premiere Pro

Final Cut Pro X

Adobe After Effects

Freemake

iMovie

Shotcut
Best editing video software for beginners:
Movavi Video Editor Plus

Pinnacle Studio

Apple iMovie

Lumen5

HitFilm 4 Express

Blender

Nero Video