Ray Tracing is a method to improve lighting quality in 3D environments. This method uses linear light rays traveling through a medium, combined with the properties of the medium through which they are transmitted, reflected, refracted, or absorbed until such rays reach the viewing angle of the object. 
In other words, the ray-tracing function tracks each individual ray of light to create accurate reflections and shadows as each photon interacts with the medium like in a natural environment.
However, not every game and every graphics card supports this function.
This article will introduce to you ray tracing games on Nvidia RTX series 30 or 20. We detail the ten most popular ray tracing games and suggest other ones that support this function.
Top 10 ray tracing games 
1. Metro Exodus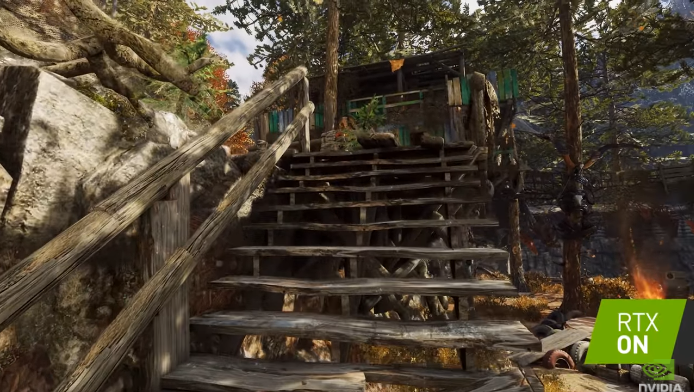 The Metro series has always been one of the leading series in terms of graphics, and the blockbuster version "Exodus" is certainly not an exception. Released in 2019, Metro Exodus inherits a well-finished Ray Tracing and is equipped with more customization.
Since then, Metro Exodus has always been cited as an example of Ray Tracing technology. The game uses many scenes, like walking in a room where the light shines through the window or going into dark corners with a dim light.
2. Battlefield V
Battlefield V is a ray-tracing game that was presented before Metro Exodus. When Nvidia released its RTX cards, a gameplay clip of Battlefield V was played right next to it to showcase the technology.
With ray tracing technology, every shot, every explosion will become much more epic and realistic. This game will impress anyone when using ray tracing. 
3. Control
Although the Control's graphics without Ray Tracing are already over the top, the ghostly graphic design, the invisible world style, which is extremely impressive, will definitely become more epic with ray tracing support.
Like BF5 and Metro Exodus, Nvidia also uses Control as an example of some effects of Ray Tracing, and the ray tracing experience on this game is as expected. However, the fps is still relatively low, so players may not really "enjoy" this technology.
4. Quake II RTX
Quake II is now back and more powerful than before, with ray tracing technology to make it more "trendy" even though this is a 22-year-old game.
The light is vivid; the backdrop looks more realistic and sharper. In general, it's like a new game title released in 2019, thanks to the power of ray tracing. Of course, the legendary gameplay of Quake II is still retained, helping loyal fans of the game experience their childhood in the most modern style.
5. Shadow of the Tomb Raider
Tomb Raider's graphics are definitely top-notch, but when NVIDIA "showed off" Ray Tracing technology taking this game as an example at the launch of the RTX 20 series, it showed the true power of this technology. 
Although Shadow of the Tomb Raider had an FPS problem during the launch, it still helped the audience admire the beauty of light in the game overall.
After that accident, NVIDIA tweaked the performance to make Tomb Raider run Ray Tracing more optimally.
6. Wolfenstein: Youngblood
The legendary first-person shooter series is back with the Youngblood version supporting fantastic graphics, and of course, ray tracing. Recent versions of Wolfenstein are already very impressive in terms of graphics, but Youngblood is on a different level.
With new lighting effects, plus the support of ray tracing, and "fast-paced" gameplay, Wolfenstein: Youngblood is expected to bring an impeccable graphical experience. However, Youngblood was released without the ray tracing option in the settings, although Nvidia used the game as an example. The new update added ray-traced reflection in January 2020. 
7. Call of Duty: Modern Warfare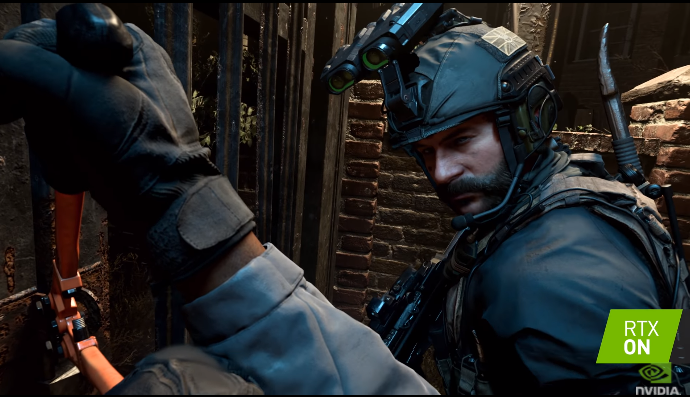 This is the first version of the Call of Duty series applying ray tracing technology. The game will undoubtedly bring many of the most suitable scenes to show off ray tracing. There are also epic explosions and intense gunfights, but you will also experience ray tracing in quieter, softer scenes this time.
You will admire the awe-inspiring shading effects of ray tracing while infiltrating the enemy base at night. The objects will be "glitter" and "slicker" thanks to the contrast of light and shadow.
8. Minecraft
Minecraft released a trailer of the Minecraft being remade with the support of ray tracing. Like Quake II, Minecraft has been completely transformed. It comes back with more modern graphics than before. With the help of ray tracing, the game will again stand in the ranks of the best-selling games.
9. Cyberpunk 2077
Blockbuster Cyberpunk 2077 is one of the games that are extremely anticipated by the audience. With stylish lighting effects that are realistic and fantasy, people should expect something new with the help of ray tracing. 
10. Assetto Corsa Competizione 
Racing games must possess realistic graphics to bring the most realistic experience to the player to feel like they are racing outside the real racetrack. That's the reason why gamers love Assetto Corsa Competizione, which goes with ray tracing. 
You can see the rays of the sun shining on your car at each turn and phase of acceleration. This game will be eye-catching when playing on the big screen.
Other ray-tracing games
Besides the ten featured games above, Nvidia's RTX also supports ray tracing technology on many other games. You can refer to the list below for more information:
Amid Evil

Bright Memory

Call Of Duty: Black Ops Cold War

Crysis Remastered

Deliver Us The Moon

Dirt 5

Doom Eternal

Everspace 2

F1 2021

Fortnite

Ghostrunner

Godfall

Justice

JX Online 3

Lego: Builder's Journey

Mechwarrior V: Mercenaries

Moonlight Blade

Mortal Shell

Myst

Observer: System Redux

Pumpkin Jack

Resident Evil Village

Ring Of Elysium

Severed Steel

Stay in the Light

The Ascent

The Fabled Woods

The Medium

The Persistence

Watch Dogs Legion

World Of Warcraft: Shadowlands

Wrench

Xuan-Yuan Sword VII
The list will probably be extended in the future when more ray tracing games are on the way. However, before experiencing ray tracing, make sure that you own NVIDIA RTX graphics cards. 
GPU Radeon RX 6000 is developing Ray Accelerators, which can boost your gaming performance. Although it was introduced to support ray tracing in games like NVIDIA, everything seems not entirely positive. 
Let's wait for AMD to improve this technology. If they are successful, gamers will be the ones who take the most advantage.